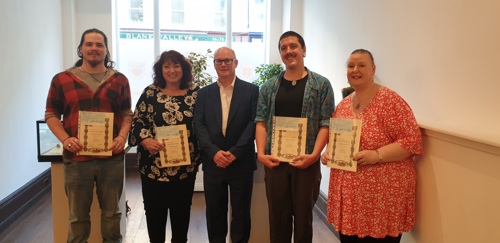 Most of you will be familiar with the annual Craftex competition and exhibition which Glasgow Kelvin College helped to promote across the College.
Kelvin always has something to celebrate at this exhibition and this year is no exception, with our amazing students carrying off six awards!
In the Jewellery section our students swept the board by winning all four categories and, of the submissions in the Fashion section, we claimed one first prize in the Wedding Gown competition and a joint first in the Fashion Advanced category.
Our fabulous, talented winners were:
Sara Brown Jewellery Fashion Advanced
Colin Story Jewellery Fashion Non-advanced
Caolain Power Jewellery Allied Products Advanced
Andrea Manning Jewellery Allied Products Non-advanced
All Jewellery awards were sponsored by the Incorporation of Tailors.
Also:
Erin Morton Fashion Wedding Gowns Advanced
Ruby Mitchell Fashion Advanced
The Fashion section was sponsored by the Incorporation of Bakers.

The Craftex exhibition involves all the Glasgow colleges, encouraging them to create specific works which showcase their talent, and covers a wide range of other craft skills such as Furniture Design, Textiles, Glass, Model-making, Millinery, Stringed Instrument making.. the list is endless.

Sponsored by the trades incorporations, the event is hosted by the impressive Trades Hall of Glasgow which is a marvellous venue to showcase these skills. This is the first exhibition to be held since 2019 and it certainly didn't disappoint.

Our successful Jewellery students are pictured here with David Webster, Senior Curriculum Manager.

Congratulations go to all of the winning students and also to everyone whose exquisite work was featured in the exhibition. Well done to them and to the talented staff who support them.

 

Group pic (l to r): Colin Story, Andrea Manning, David Webster, Caolain Power, Sara Brown



`